Getting around Lisbon
One of the most confusing things about getting around Lisbon was their
metro system
- the lines themselves are super simple, but I still don't really understand how payment worked, even after 4+ days in the city. The practical thing though is that one of the metro lines goes right to the airport, so you can get to the city center within just a few stops.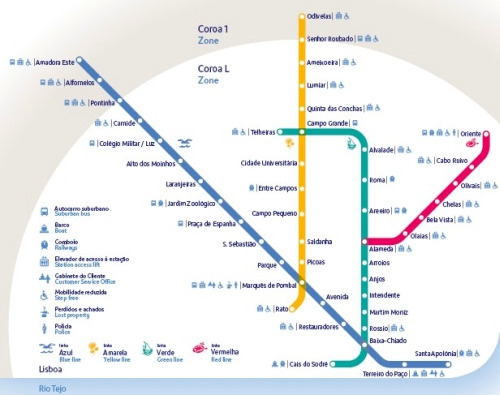 No matter which option you choose, you'll have to buy the little metro card for 50 cents. Then you can either get a one-way ticket, a day pass or just put a sum of money on it (similar to the Oyster Card in London). Then you scan it as you would your pass Navigo in Paris - but be sure to leave it on the scanner for a few seconds, as it can take time to read the card. If you're quick, when the light turns green, you can also check your remaining value on the card reader.
But this is where it gets confusing - I never really understood how much we were paying for what. Sometimes it would only debit 60 cents and sometimes way more. So I never did figure out if that was for transfers, or distance or time of day. But to make a long story short, we put 10€ on each of our cards (and got 75 cents free as a credit), and that gave us 4 metro trips, 1 tram ride, round trip train to Sintra and back, plus the train ride out to Cascais. We had to add a bit of money on our cards to get back from Cascais. The main thing I wanted to highlight though is that you can also use the cards to take short day trips to many small town outside of Lisbon. We did have to pay separate bus fare however for our day trip to Obidos.
Also, as a caveat, we walked pretty much everywhere (in an attempt to burn off the calories of everything we were eating lol). And I didn't realize how dang hilly Lisbon was - if you decide to walk it, you'll have no problem getting your 10,000 steps in! I'm pretty sure most folks use the transport systems than we did, but we enjoyed exploring on foot, and it was easier on the budget as well.
The last thing I wanted to mention for transport was that there is also a
Lisboa Card
that is valid 1, 2 or 3 days, and includes transport and free or reduced entry to many of the main monuments. I added up everything we wanted to visit and how much we would use the metro, and it was pretty much break-even between the two. In the end, I didn't end up purchasing it however because I was worried I would get lazy and take the metro everywhere, plus C only wanted to do a limited amount of sight-seeing. But if you are going to Lisbon for 3 days and plan on seeing as much as you can, I think it'd be worth getting. Plus it would mean not having to worry about how much credit you have left on your metro pass, and that alone would be one less headache.