Watch your step
So something extremely mortifying happened to me today. Something so mortifying that I am not even sure why I am about to share it here, but hey, I guess it makes good blog fodder. So here goes.....I somehow managed to fall into a hole in the middle of a supermarket. A hole that looked a lot like this one: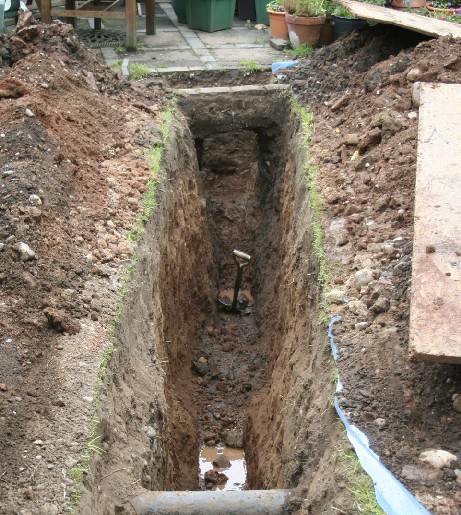 Yeah.
Now I should preface this by saying that normally I am very aware of my surroundings and I am also quite coordinated, but I was so distracted by the events of today (that started with a broken-down metro at 6:30am and went downhill from there) that *plop*, down I went into the hole of death, along with my shopping basket and all its contents.
After sitting there stunned for a second, I stood up and took inventory. Minus a scraped hand/wrist and a majorly bruised ego, I was all in one piece, so I gathered my goods and hopped on out, no thanks to anyone else. I was feeling a bit miffed that not a single employee or patron had said anything or offered to help, so I was sort of grumbling to myself as I finished my shopping. By the time I was ready to check-out, my wrist was bleeding quite a bit, so I went up to the front desk and asked for a band-aid. The manager looked me up and down and said "Um, how about you walk on over to aisle 5 and buy some?" and I was like "Um, how about you cover up the GIGANTIC HOLE IN THE MIDDLE OF YOUR SUPERMARKET?"
Suddenly her tune changed and I was invited behind the counter to sit down while she called the safety lady, who came a runnin' with her first-aid kid. She put on some plastic gloves and I was like "Whoa, I just wanted a band-aid''. But she insisted on disinfecting it and then massaging my hand with some arnica gel. What really touched me though was what a calming energy this lady gave off. It's something so rare you come across here when interacting with a stranger, so the care she used when handling my wounds almost brought tears to my eyes. After such a rough day (and a fall in a frickin' hole), I needed a little TLC. She then said "Oh, you look like you're going to cry! Let me go get you some water!" I made a joke about maybe needing a drink of that alcohol she was using to disinfect instead, but took my water like a good patient while she wrapped up my arm:
She then went to get me a few supplies to bring home and also offered to take down my phone number and call me later that night to see if I was alright. It obviously was not necessary for a banged-up wrist, but I appreciated the thought. It feels like so often in France, interactions end up being impersonal and sometimes downright inhuman, so it was nice to receive a little unexpected kindness from a stranger. I thanked her profusely for her time and asked instead that she make sure the hole got covered up.
However, this is what it looked like as I exited the store, so I'm not sure it counts as a total win:
Moral of the story: I'm used to walking eyes-down outside to avoid doggy poo, but maybe I need to start doing it inside too....
Labels: Red in the face